Downtown Cleveland Announces Open House and Tree Lighting Ceremony
October 26, 2023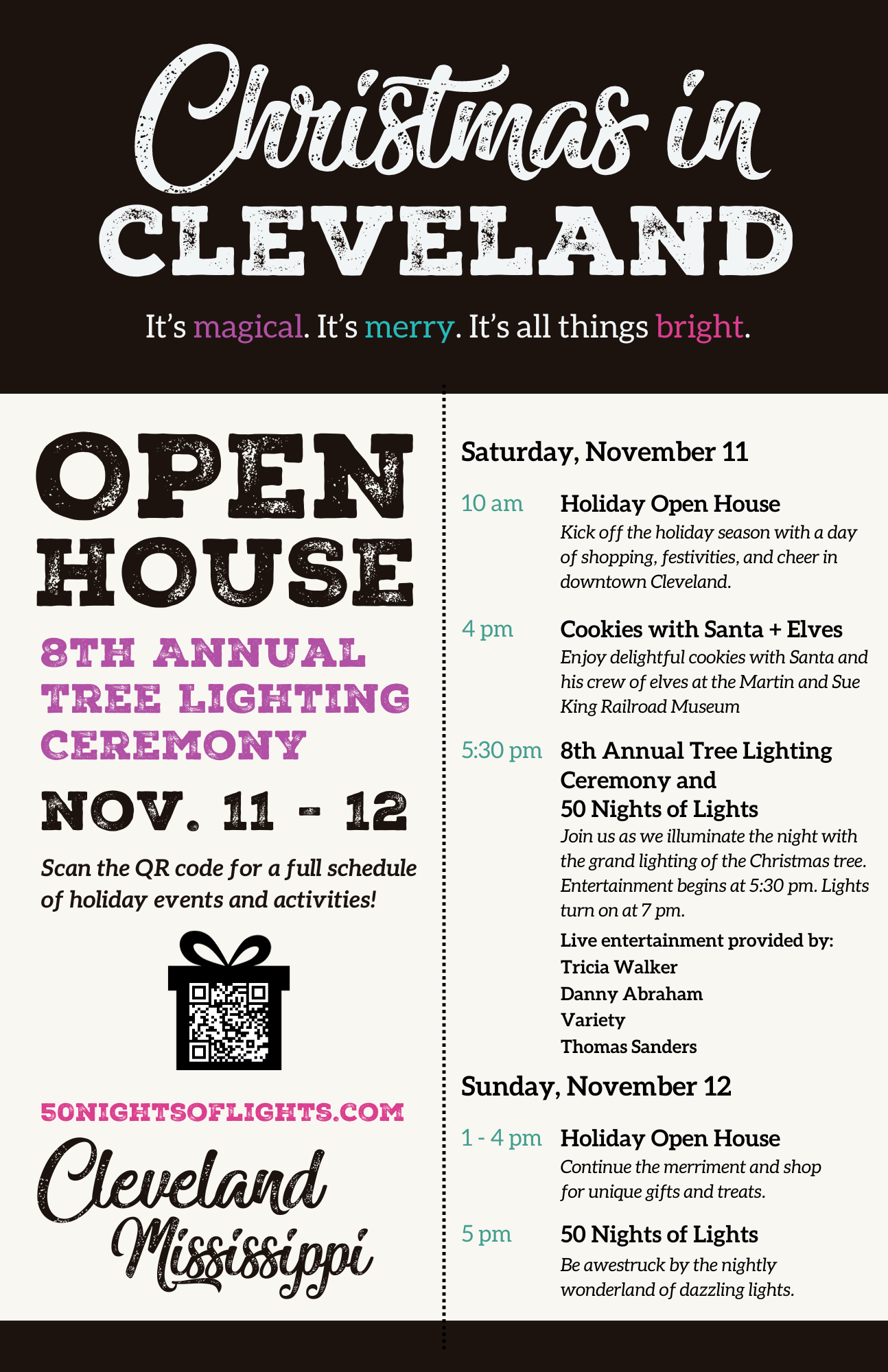 Downtown Cleveland is pleased to announce the kick off event for the holiday season. Open House and the 8th Annual Tree Lighting Ceremony will take place on Nov. 11 - 12, in Downtown Cleveland.
The holiday festivities begin at 10 am on Saturday, Nov. 11, with the launch of this holiday season's local loyalty cards. After receiving 10 stamps, shoppers can turn the loyalty card in at the Chamber of Commerce for a chance to win a "Downtown Christmas Stocking." Drawings will take place every Friday in December. Local loyalty cards will be available at participating stores and at the Chamber of Commerce.
Downtown businesses deck the halls, windows, walls, and every square inch of their
stores with phenomenal Christmas decorations and offer snacks, drinks, and other fun shopping incentives. Winners of the Christmas Window Decorating Competition will be announced from the main stage at the Tree Lighting Ceremony.
The Martin and Sue King Railroad Museum is hosting Cookies with Santa and Elves beginning at 4 pm. Kiddos can visit with Santa and his elves, and enjoy delightful cookies at the Train Museum.

The highly anticipated 8th annual Tree Lighting Ceremony will mark the beginning of the 50 Nights of Lights on Saturday, beginning at 5:30 pm.
A live entertainment lineup will feature the following artists:
Grammy Award Winner Tricia Walker
Singer/songwriter Danny Abraham
Eric Edwards and Shara White with Variety, the popular 'old school' R&B/soul sibling duo
Piano player extraordinaire Thomas "Little Killer" Sanders
Delta State President Dan Ennis and his wife, Jennifer, will have the honor of "flipping the switch" to illuminate the impressive 30-foot tree and this year's 50 Nights of Lights.
Extended shopping hours and enticing incentives will be offered on Sunday from 1 - 4 pm.
Additional extended shopping hours will continue through the holiday season, in addition to family-friendly events downtown, like the Merry Mug Walk on Nov. 25 and the Cleveland Christmas Parade on Dec. 7.
Enjoy 50 Nights of Lights, Ice Skating, Ice Go-Karts, Trolley Rides, Carriage Rides and many more events all throughout the holiday season.
Visit 50nightsoflights.com for a full holiday event schedule or call the Chamber of Commerce at 662-843-2712 for more details.
Don't miss the chance to be part of this magical holiday season in Downtown Cleveland. Join us for a time of merriment, joy and celebration. See you there!