Celebrate the Holidays with the Christmas Loyalty Card in Downtown Cleveland
November 17, 2023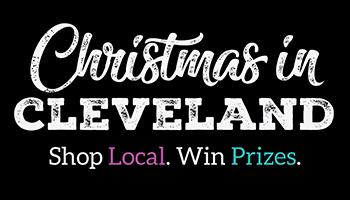 Celebrate the Holidays with the Christmas Loyalty Card in Downtown Cleveland
The holiday season in Downtown Cleveland is even merrier with the Christmas Loyalty Card, an exciting initiative aimed at supporting local businesses and spreading the festive cheer. Here's how it works:
Get Your Christmas Loyalty Card: Simply visit downtown businesses or swing by the Chamber of Commerce to receive your Christmas Loyalty Card. It's not just a card; it's a ticket to holiday fun!
Earn Stamps with Every Purchase: Every time you make a purchase at a downtown business, collect a stamp on your Christmas Loyalty Card. The more places you visit and purchase, the more stamps you receive!
Submit Your Full Card: Once your card is full, drop it off at the Chamber of Commerce. If the Chamber is closed, leave it at the business with your name and contact information, and we will pick it up. Your name will be entered to win a Christmas stocking full of goodies and gifts!
Stocking Drawings: Excitement builds as stocking drawings take place on December 8th, 15th, 22nd, and 29th. Winners will be announced via social media and local media outlets.
BONUS FEATURE: Do you have a Delta State Football ticket stub from the latest game? Show it to receive a free "stamp" marked with "DSU" to showcase your green dedication. #GoStatesmen!
The Christmas Loyalty Card is an opportunity to embrace the festive spirit while supporting the heart of our community—local businesses. Let's make this holiday season magical, merry, and full of joy in Cleveland!
For more information, visit 50nightsoflights.com.