Nowell awarded S.E. Kossman, Sr. Award at annual Chamber Banquet
August 29, 2023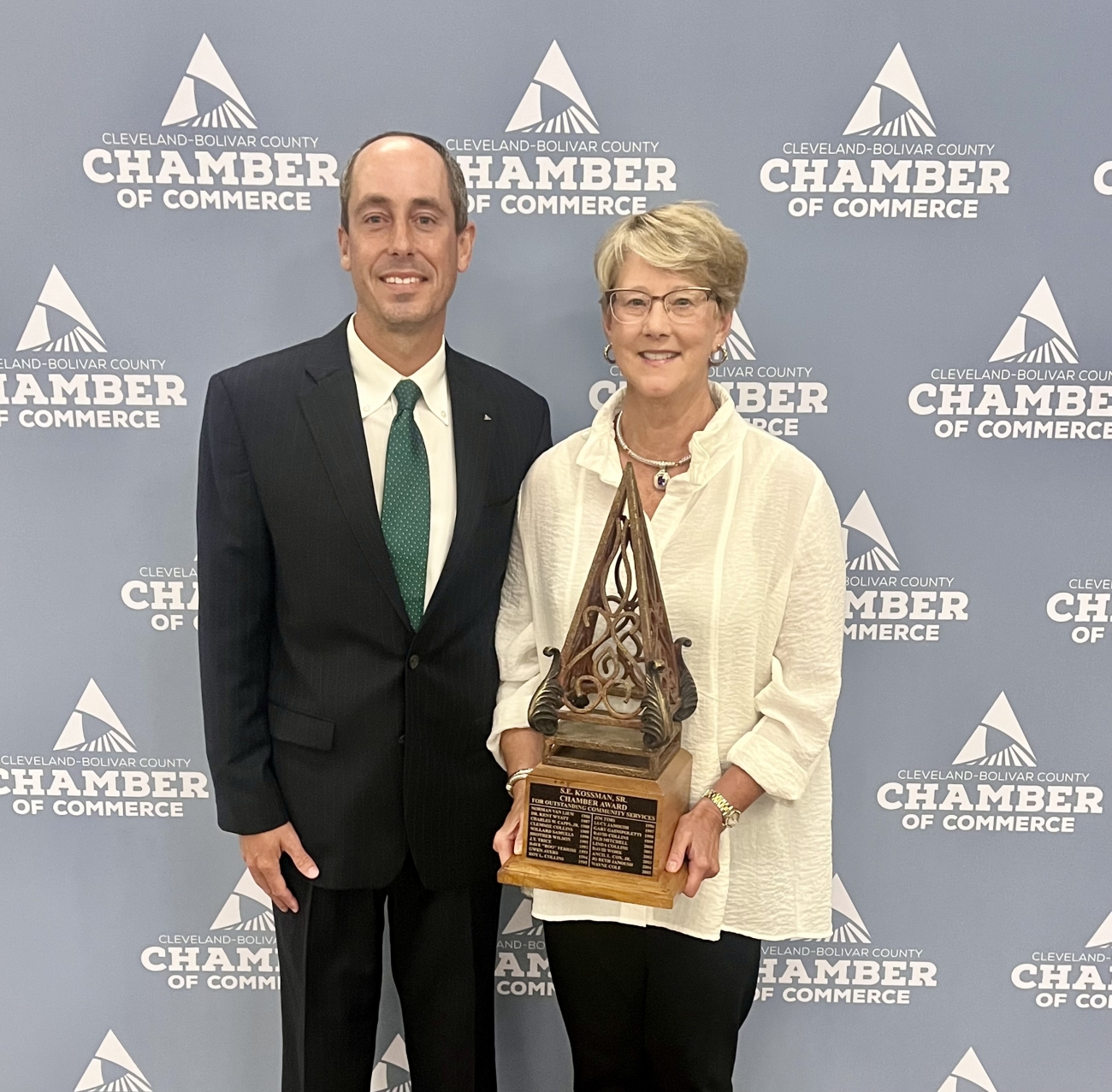 Becky Nowell was awarded the S.E. Kossman, Sr. Award at the Cleveland-Bolivar County Chamber of Commerce 75th anniversary annual Chamber Banquet on Aug. 28. The S.E. Kossman, Sr. Award is the most prestigious award given by the Cleveland-Bolivar County Chamber of Commerce each year. The award recognizes a Chamber member who has provided outstanding, and most importantly, enduring, service to the Cleveland-Bolivar County community.
Nowell is a Clarksdale native that attended Delta State in 1977. A week after her graduation, she started working at Baxter and never left Cleveland. Along with her day job came plenty of opportunities to give back to the city of Cleveland, Bolivar County, Delta State and her church, and give back, she has done.
Nowell has been a member of the Chamber of Commerce since 1989. She served on the board as chairman and currently serves on the tourism board and as the Delta State activities chairman. Her dedicated service garnered the President's Award in 1992 and the Chamber Award in 2017.
She has also served on the Team Cleveland Board of Directors and has been a member of the Cleveland-Bolivar County United Way fund distribution committee and the Crosstie Arts Council board of directors. As a member of the First United Methodist Church since 1997, she has spent time serving on the trustees committee, administrative board, finance committee and the staff-parish relations chairman.
Nowell has served on the Board of Directors for the Community Foundation of Northwest Mississippi and the Cleveland Music Foundation Board. She was elected as the president and co-chair of the Red Carpet Guild Society, and in 2018, she was named the Margaret Maddox Woman of the Year as the top women volunteer from 18 counties during the Community Stars Award Ceremony. Nowell was crowned Junior Auxiliary Queen at the 2019 Charity Ball.
She is a proven community leader who envisioned "50 Nights of Lights" for downtown Cleveland where she spearheaded efforts that raised over $450,000. She also is the Chairman of the Board for the GRAMMY Museum Mississippi that has brought thousands of visitors to Cleveland and provided numerous educational opportunities.
Remarkably, Nowell has also found time to volunteer with the Sunny Seniors Alzheimer's Respite Program, the Delta Arts Alliance, Friends of Bolivar County Library, Friends of the Delta Music Institute, Cleveland School District Mentoring Program and Delta Home and Garden Club. Her Delta State volunteer service extends through the Kappa Delta Alumnae Association, Bologna Performing Arts Center annual member, Statesmen Club and as a Delta State Alumni Association life member.
Chamber president Jeffrey Farris presented Nowell with the award, which has the name of every S.E. Kossman, Sr. Award winner transcribed on the plaques. The recipient received a standing applause for her dedication and service to Cleveland and Bolivar County over the course of many years.